Download
Download Video Comparer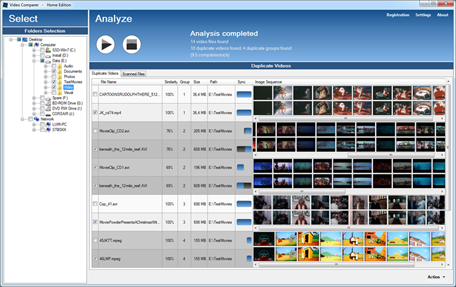 Thank you for your interest in Video Comparer.
Try before you buy! The fastest way to get started detecting your duplicate videos is by downloading the Free Edition of Video Comparer.
Last Version
Version: 1.07.007
Windows 64-bit
Release date: 21st March 2022
Limitations to the Video Comparer Free Edition
Free 30-day Trial
Some of features are available only in Home/Expert/Pro Edition. Compare the editions for more information.
Latest Release Notes
Version 1.07.007 (21st March 2022)
Fixed auto-selection for identical duplicates.
Version 1.07.006 (15th February 2022)
Added 'Favorite folder' (excluded or required) for autoselect in settings menu.
Added selection/management of all files in 'Scanned Files' tab.
Added optional high contrasted colored groups.
Added video format TS4.
Fixed problem when stopping analysis.